About Our Kombi ...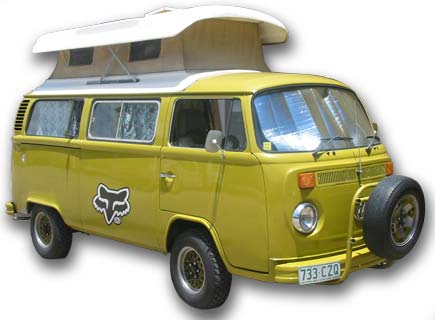 Name:

Ethel

Year born:

1975

History/modifications (as far as we know them):

The previous owner bought her off two German tourists who had driven her all the way up from Sydney some time in the late 1980s. At that time, there was some rust that needed to be cut out of her front guards and underneath the battery box. Then she got a complete re-spray in her origninal colour and was driven around like that for about 6 years with all the camping gear in it (many family holidays were courtesy of this old van!).
The owner changed jobs and began contracting at the airport (Cairns), and removed all the interior so he could put all his tools in the back and transfer them to and from work.
In 2000 Ethel got a complete engine re-build, due to a noisy bottom end. Bigger valves were put in the cylinder heads, and an external oil cooler was fitted.
The conversion is known as a Sopru (after the Sopru company based in Adelaide, South Australia), although there are visible notches on the floor inside the van which suggests it was originally a microbus. So, the (original) camper fittings/pop-top could have been added later, possibly at separate times.
Since owning the van in January 2004, I have carried out some further, albeit very minor, modifications: window tinting (essential for Aussie driving), a new interior (basic wooden construction, no fancy rock-n-roll bed or kitchen units ... yet) and a new lick of paint for the sun damaged pop-top.
The sticker on the side? The Fox logo? Well, that's not just there for decoration. Apparently, Ethel got into an argument with a washing machine. You see, you can have roo bars on the front and avoid those large hopping creatures, but when washing machines attack, there's little protection. So, the damage was painted over to keep our old enemy rust at bay (no pun intended) and hidden with the foxy deco.
So, to summarise, it looks like the bus' timeline went something like this: Microbus > Sopru camper conversion > Empty (all fittings stripped) > Bespoke, quick-and-dirty camper/sleeper conversion.

Engine Size/Type:

2 Litre Type 4 engine, twin carburettor with additional Racimex oil cooler (snail fan has been removed, so no heating being pumped up to the front, brrrrrr! )

Colour:

Officially known as Dulux Martini Olive (or Dulux colour number 158803, VW colour number CLR622). But I always describe the shade as mustard yellow! Originally a light grey colour (L345) when she left the factory, bound for Australia, presumably re-painted at the time of being converted to a camper.